sickle cell disease
---
Southern Regional
Sickle Cell Association, Inc.

177 State Street 3rd floor Bridgeport, CT.
(203) 366-8710
Member of:
United Way Agency of Eastern Fairfield County
Sickle Cell Disease Association of America (SCDAA)
www.sicklecelldisease.org
---
e.mail SRSCA2@aol.com
Sickle Cell Disease is a hereditary, chronic disease of the red blood cells that is characterized by painful episodes, infection, organ damage, anemia joint degeneration, strokes and many other serious health problems. There is no cure. One in ten people of African descent carries the genetic trait for sickle cell disease. One in 400 individuals of African descent carry the disease. One in 25 Hispanics carry the genetic trait and one in 1000 has the disease. Sickle cell disease is also found among people whose ancestors come from Greece, Italy, Turkey, Saudi Arabia, the Caribbean, Central America, Northern South America, India and Southeast Asia.
---
Southern Regional Sickle Cell Association (SRSCA)
Mission Statement
The purpose of this Organization is to provide education, screening, counseling and support services to persons affected with Sickle Cell Disease and the trait. This purpose is expanded to include families, communities, which ensures a network of partners dedicated to promoting a healthy life style for patients with sickle cell disease.
We are a member of the United Way Agency of Eastern Fairfield County, and the National Sickle Cell Disease Association of America. Volunteers are always welcomed and needed. Call and get information on how you can become a member or volunteer of the SRSCA.
In honor of September being National Sickle Cell Awareness month, the SRSCA, celebrates by having an annual Walk-a-thon, Co-sponsored by the Connecticut Chapter of the Delaware State University Alumna Association. Walkers and sponsors are needed.
SATURDAY , SEPTEMBER 22, 2001, WILL BE OUR 10TH ANNUAL WALK-A-THON AND CELEBRATION, STARTING AT 8:30 AM FOR REGISTRATION, LEAVING 9:00 AM FROM SACRED HEART UNIVERSITY, PARK AVENUE, BRIDGEPORT ENDING AT SEASIDE PARK'S BANDSTAND, BRIDGEPORT. AT THE END FOR THOSE NOT WALKING THERE WILL BE A SHOPPING MALL OF VENDORS, STARTING AT 10:00 AM . ENTERTAINMENT AND GREETING THE WALKERS WILL FOLLOW WHEN THE WALKERS ARRIVE. PREREGISTRATION $5.00 DAY OF EVENT $7.00. EMAIL OR CALL FOR SPONSORSHIP FORMS. HELP US MAKE THIS OUR LARGEST EVENT. THE PROCEEDS FROM THIS EVENT SUPPORTS OUR FAMILIES AND PROGRAMS.
Dr. Lenette Benjamin, is the Chief Medical Officer for the National Sickle Cell Disease Association of America and Director of Sickle Cell Center at Montefiore Hospital, Bronx, New York. She attended our annual Walk-a-thon September 25, 1999, and asserted that next year the plight should take on a national project to get everyone throughout the entire nation to walk at the same time in "The National Sickle Cell Walk-a-thon!!!"
---
Newborn Sickle Cell Screening
As of March 1, 1989 in the state of Connecticut all hospitals began participating in Universal Newborn testing of sickle cell anemia and its variants, using the tow week follow up P.K.U. sample, therefore no additional testing is necessary. For additional information you may contact the Southern Regional Sickle Cell Association or your local physician.
The Southern Regional Sickle Cell Association provides information and support from the Greater Bridgeport Connecticut Region. The SRSCA addresses these goals in a variety of ways. It sponsors fundraising activities in the communities that help to increase public awareness to the problem of the sickle cell diseases and raise revenues to support a free service for patients and families with the disease. It participates in health fairs and testing for sickle cell traits.
We are available for speaking engagements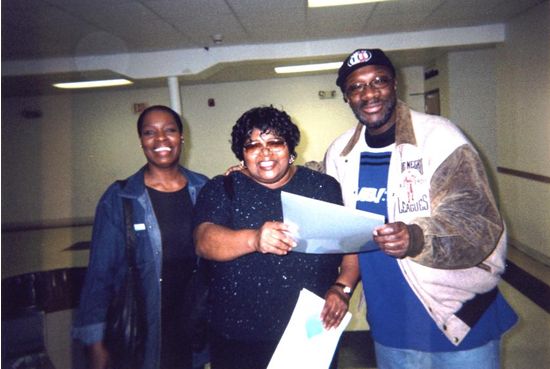 This photo was taken after The Southern Regional Sickle Cell's 1st. Annual Celebrity Basketball game. In the photo is Sandra Worrell, Board Chair for the Association, Isaac Hayes, and Delores Williams-Edwards, Executive Director. The Southern Regional Sickle Cell All-stars played against the Isaac Hayes Crusaders on February 3, 2001, in Bridgeport, Connecticut . Isaac Hayes attended to watch his team play our team. After the game we gave a reception in his honor. We thank Isaac Hayes and his foundation for all their support.
---

Delores Williams-Edwards
Executive Director

Lillian Riddick, PHD
Board Member
Health Educator
S.C.D.A.A. Board of Directors

---
Events:
---
---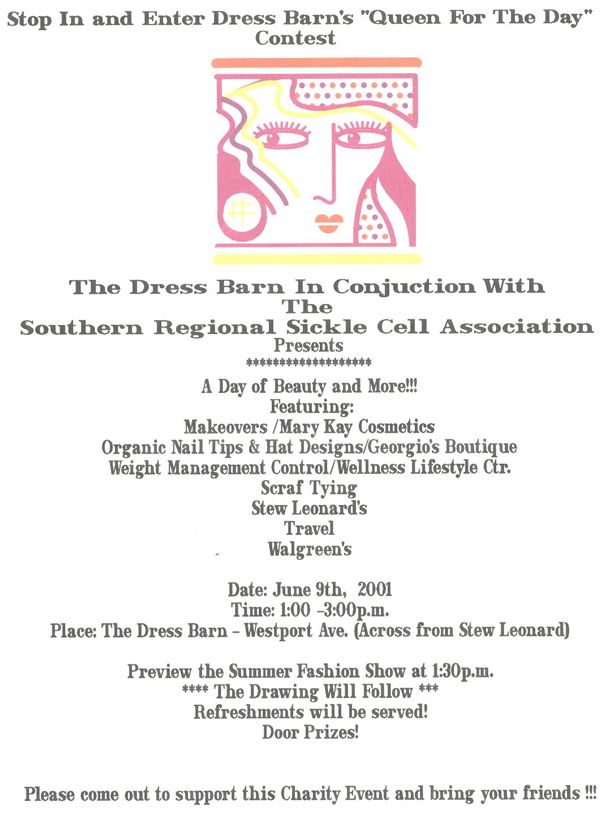 ---
News Release

---

The Southern Regional Sickle Cell Association
Nominated Poster Children for 2001-2002

Ms. Deanna Holt 10 years old, and Mr. Steven Green 6 years old
of Bridgeport, CT.
---
@ NEWS CHANNEL 8
Keith Knountz, Jeff Fox, and the poster children
Mr. Keith Kountz News Anchor and the Honorary Chair of our 10th Annual Walk-a-thon September 22, 2001

---

Isaac Hayes and DeAnna


DeAnna Holt, her Father, Mother and Aunt
---
---
Youths Speak Out - Bridging the Gap


Youth Speak Out - Bridging the Gap 


Contact:  Delores Williams-Edwards              
Southern Regional Sickle Cell Association, Inc.   
203-366-8710 

Bridgeport – On Saturday, May 5, 4:30 p.m., Monday, May 7,7 p.m. and 
Wednesday, May 9, 7:30 p.m. Cablevision ( channel 72)  andSNET, Americast 
(Channel 17) will rebroadcast the Southern Regional Sickle Cell  
Association's SCOPE Project ( Sickle Cell Outreach Prevention 
Education) . This taping was  produced by the Southern Regional Sickle Cell 
Association , directed by Soundview Community Media and moderated by a group 
of students from the Warren Harding High School Health Magnet program who are 
trained peer educators.  

The broadcast will feature a panel discussion by fifteen student, Hertz 
Nazaire, Artist/ and a sickle cell patient, plus Dr. Garth Oliver of Milford 
Health Practice who present information about sickle celldisease, and answer 
questions from individuals who called in during the live broadcast. 

Highlights of the program are the participants who speak out about the pain 
and fear experienced by those who have the disease.  



stay tuned

---
PBS Documentary on Chronic Pain:
Features Sickle Cell Disease

Local Bridgeport Artist:
Hertz Nazaire is interviewed about his Pain.
Click Here to view > Images check your local PBS Listings for Air Times

---
---
---
---
Find The Sickle Cell Community Online
[ Message Boards - BBS - Forums ]
---
---
---
---
link to S.C.A.R.E. ( Bronx, NY )
---
Local community links:
Stamford
COLEMAN TOWERS TENANTS ASSOCIATION INC. - OWNER RENAISSANCE CO-OPS/COMPUTER LEARNING CENTER Knowledge is just a click
www.colta.com
---
---
This Sickle Cell WebRing site owned by
Southern Regional Sickle Cell Association, Inc..
| Previous 5 Sites | Next 5 Sites |

| Previous Site | Next Site |
| Random Site | List Sites | Join this Ring |


---
---
---
webpage design